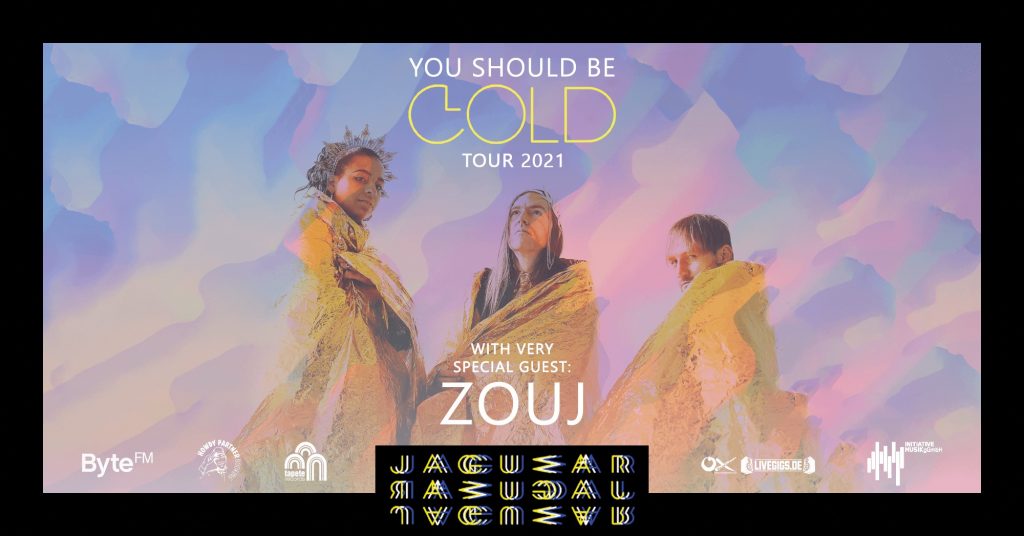 We are happy to announce our next show.
We're setting up the Record-Release Party of Berlins finest Noise Pop Powerhouse JAGUWAR in cooperation with Berlin-DIY-Collective Miss The Stars.
Special guest is new born but ass-kicking ZOUJ, here to make you dance.
All the Details you need to know:
Date: 20th november 2021
Where: Zukunft am Ostkreuz | Laskerstraße 5, 10245 Berlin
Doors: 7.30 pm
Entree: 10-15€ (only Door, no pre-sale)
Dresscode: We wish for you to come wearing something gold! (JAGUWARs Record is called GOLD)
Corona: probably 2G (bring proof of vaccination or recent recovery + 1 vaccination)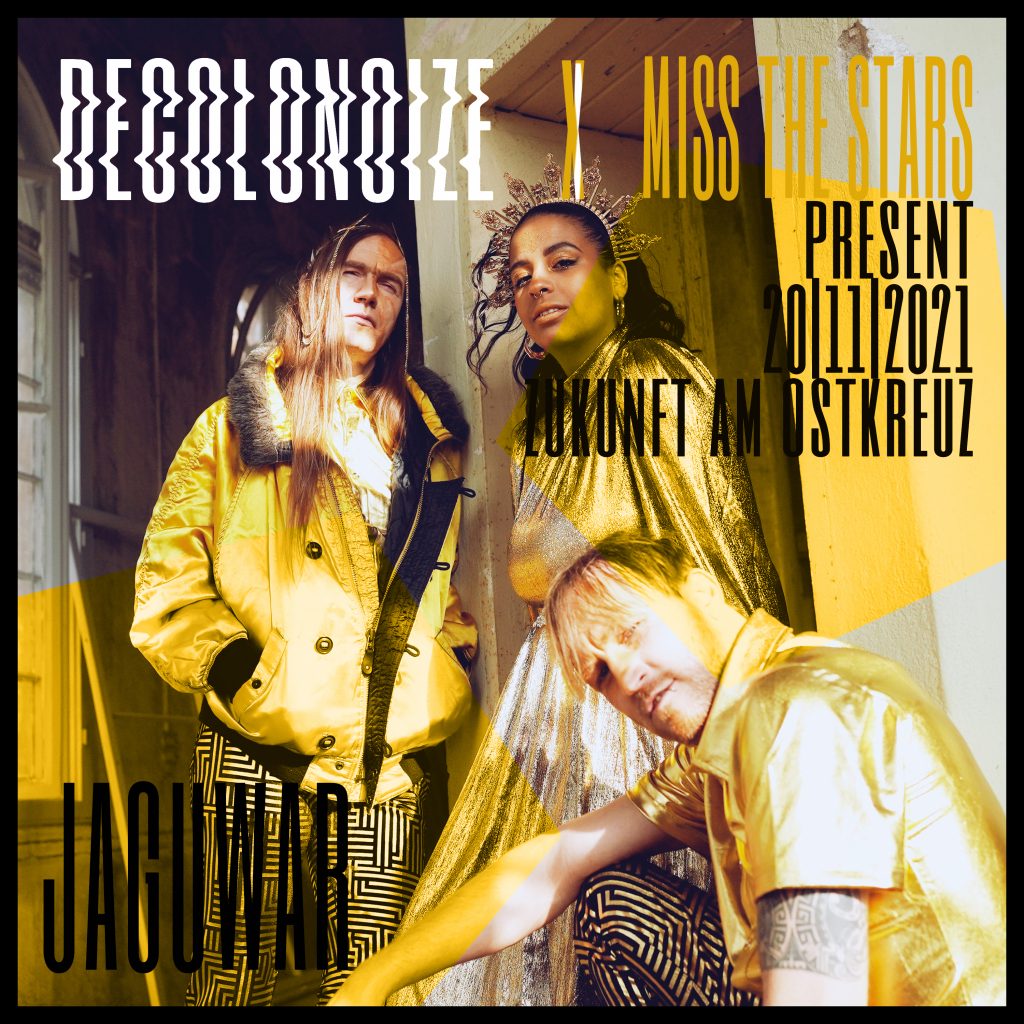 JAGUWAR
Berlin and Dresden trio JAGUWAR played their way into the hearts of noise romantics with the sprawling sonic landscapes which characterized the trio's 2018 debut album Ringthing.
Oyèmi, Lemmy and Chris subsequently embarked on a phase of intense touring be fore returning to the studio to create their sophomore album GOLD, set for release in October 2021.
GOLD is a supercharged blast of future pop, transcending borders and defying pigeonholes, an album arising from the band's predisposition to experiment. GOLD is not only danceable, poppy and endearingly intricate, it also flys in the face of the status quo, ask questions of the current state of affairs and the oppressive mechanisms in our society.
GOLD is no blunt denunciation, however, but a soundtrack to accompany
the realization that there is strength in individuality, thereby unlocking a new level of productiveness.
Diverting melodies coalesce with a familiarly vociferous wall of sound to create an atmosphere which galvanizes the band's pursuit of freedom.
Thanks to a seemingly limitless arsenal of effect devices and a sizeable stack of amplifiers, JAGUWAR create a wealth of elegant soundscapes. Shimmering tonal fragments infiltrate layer upon layer of aural strata, leading into catchy indie pop hooks which prelude an epic storm of thunderous guitars. Oyèmi and Lemmy alternating vocals are the missing links in a world of stark contrasts.
The band's gaze is clearly fixed on the future. GOLD is more than a symbiosis of intricate playfulness and the empowering strength of innermost desires. GOLD is a call for justice.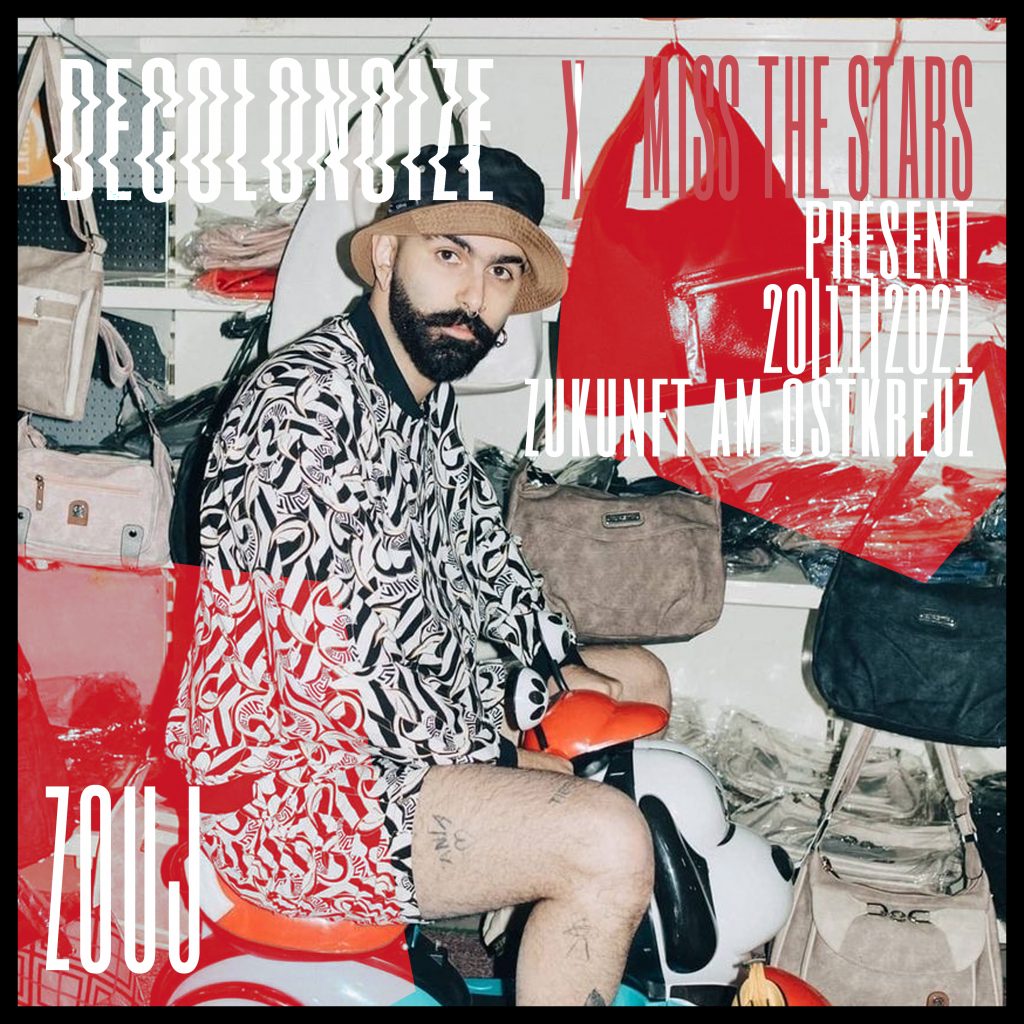 ZOUJ
ZOUJ is all about finding the soul in synthetic sounds: "I'm trying to
make my machines sound human by emulating errors, randomness
and tempo ups-and-downs while i'm trying my best as a human to
sound like a machine." But ZOUJ is a lot more than a music project.
Lenox works with an ever-growing network of
musicians,photographers, directors, animators, toy makers and
graphic artists to create a synthesis of sound, visuals, symbols, dress
and movement. The magic ingredient is in the heart of these
collaborations.