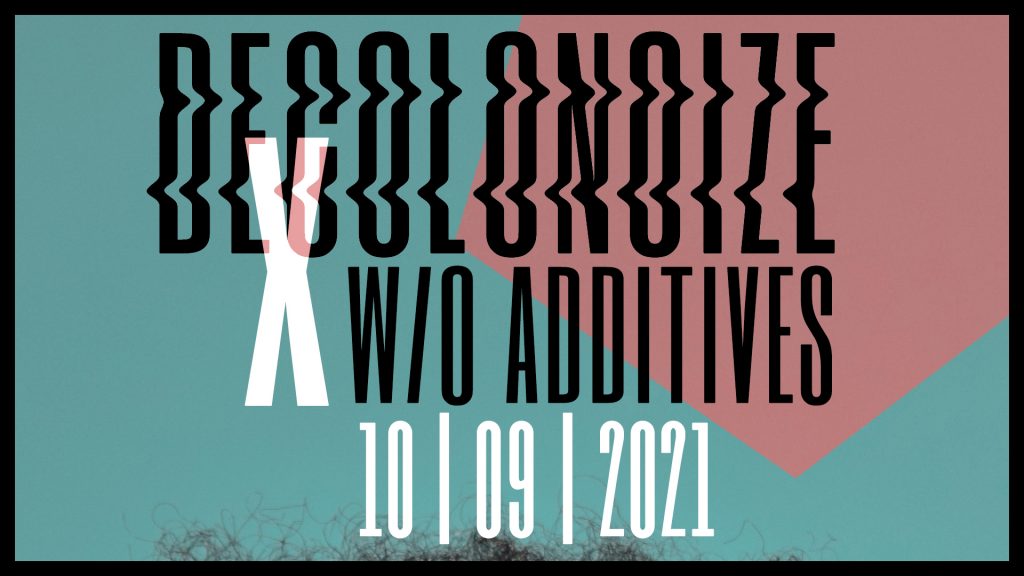 It's happening! We're proudly presenting the first DECOLONOIZE show at Oyoun Berlin.
We paired up with w/o additives, the pilot project of Mariam & Miriam in form of an exhibition at Oyoun, with illustrations and music of BIPoc artist.

▸ Opening Hours:
31.08. – 14.09.2021 14.00 – 18.00 (on 10.09. 14-20h)
// Tuesday – Saturday
Time slots every hour can be booked via Eventbrite. 
Due to corona four people per time slot can visit the exhibition personally accompanied by Mariam.

More info about the exhibition you'll find here: https://oyoun.de/event/w-o-additives-music-exhibition/

DECOLONOIZE SHOW:
10 | 09 | 2021
at Oyoun – Lucy-Lameck-Str. 31 | Berlin Neukölln
Doors: 7pm
Entree: 10,00 € (pre-sale link is coming soon)

Breezy
Breezy is a Berlin-based hip hop artist on a mission to infiltrate every kiez with the exploration of race, gender expression, queerness, and the universe of intersectionality. A rapper who can not only sing, but an artist who pushes the boundaries of how hip hop should sound.
Breezy embodies more than a cool breeze on a warm summer day. With her music, the Berliner-by-choice remains constantly in motion and thus resembles an entire climate zone between pattering rainfall, hot flashes, purring winds and bursting thunderstorms. The interplay of hip-hop, soul, blues and gospel opens up the sonic space for Breezy's powerful content: As the queer daughter of a Black and a white parent, Breezy's music explores the meaning, boundaries and belonging of her identity. The self-designation "Mulatto Music" thereby describes the process of her self-discovery on the one hand, but at the same time reclaims the interpretive sovereignty over this – when used as a description of others – racist term in order to establish an empowering representation of her personality as well as social belonging.

IG: @breeezyfosheeez
Facebook: Breezy
NAARI
Neeraja a.k.a NAARI, is a musician and vocalist from New Delhi, India. From the beginning of her career, her voice and musicality commanded attention. Regularly releasing music on her own, she travelled to Berlin to study composition, where she found herself touring Italy and making a name for herself. Through this, she reinvented her name, deleted her music and started over with her moniker NAARI.
This was done to make her ethnicity, social status and gender a little more anonymous. The single "One" was the first release under the name. The debut e.p everythingiseverything; deals with her relationship to Berlin, sexual love and anxiety. Her music is a breath of fresh air, that doesn't shy away from showing raw emotion.

IG: @naarimusic
Facebook: NAARI
OYÈMI NOIZE
OYÈMI NOIZE currently residing in Berlin, has a complex identity: black, m and ixed-race,east-german, mentally ill. She's singing songs about mental health, love affairs and her blackness. Telling the stories of her life in an artistic way helped her finally emancipate from the outside gaze she was exposed to her whole life. After she spend the past 10 years shredding in noisy bands and touring Europe and the US, she's now sharing her first lonely bedroom pop endeavors with the music world. Dark Acoustic pop meets dancy beats and shimmering synth sounds. 
IG: @oyeminoize